About the Comic
Wuffle is different from other wolves. While most wolves are sneaky and tricky, Wuffle is innocent, naive, and kind hearted, always willing to help people without expecting anything in return.
Wuffle was actually one of the projects that started back in the year 2008. At that time, he was designed to be the main character of the game with the same name.
The game is a parody of many famous fairy tales with a wolf in the story, such as the Three Little Pigs, and the Little Red Riding Hood.
It was supposed to be a platformer game about Wuffle fighting the three evil pigs, stopping them from destroying his land and turn the land into big factories.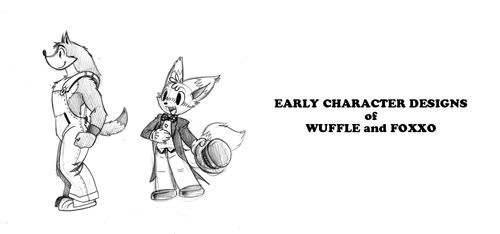 Unfortunately, the we never actually had time to work on the project, and it eventually got cancelled.
However, I was really in love with Wuffle's design. I want to see him comes to life in some form. If he can't be in a game, then he can be in something else. And that's when I started working on the Wuffle comics project.
Finally, after 4 years, I think I have found the perfect story for him. I just want to see him comes to life, see him living his little adventure with his friends. And here it is, in your hand, the comic as you can see today.
I want Wuffle to be a comic for everyone. I want to bring back the old charms of the good' old classic cartoon that we saw when we were young.
I hope you enjoy the comic, and will come to love Wuffle the same way that I have.

Welcome to the world of Wuffle, the big heart wolf!

 
-Piti Yindee
Creator of "Wuffle" 
Short URL for this post: http://tmblr.co/Zy4yby